(I'm feeling a bit under the weather, so here. Take this mildly-diplomatic rant about plaid. Take it.)

Don't get me wrong. Plaid is one of the most versatile prints out there. Combining other clothes & accessories with plaid is as easy as one-two-three, and with plaid as the current trend among college students, it's a basic that can make any girl (or guy) look fashionable.
That said, so many people,
so many people
, execute the so-called
trend
poorly. And because plaid is worn by so many, I fear the trend is going to crash and die. Hard. It'll become overrated to the majority of the population, like Avril Lavigne or
Kanye West
.
Personally, I'd like to avoid looking like a lumberjack. I'll spare you the step-by-step user manual on wearing plaid, because you people are fashionable and probably know more on the subject than I do. Just, please use sparingly and in your best judgment.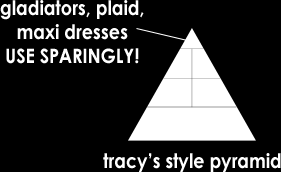 By the way. Where did the stereotype of mixing plaid and hipster come about?